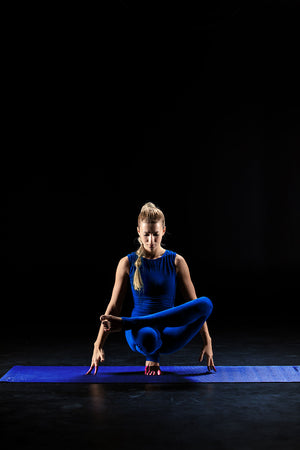 About yoga
Yoga is a practice that unites the body and mind, enhancing overall physical and mental wellbeing. Our diverse range of yoga classes combines postures, breathing techniques, and meditation or relaxation. Designed to promote endurance, strength, calmness, flexibility, and alignment with your wellbeing, our dynamic selection of classes has something for everyone. If you are looking for yoga classes in Dubai, join us and embark on a transformative journey of self-discovery and holistic wellness through our invigorating yoga classes. Discover the power of yoga and nurture your mind, body, and soul with us.
Who can join
Our classes are ideally for young and older adults, but yoga is for every body. Whether you've never done yoga or you practice regularly, we offer different yoga classes that will stretch, strengthen, and relax your muscles leaving you feeling refreshed and rejuvenated.
Flavia De Simone
Country: Italy
Flavia De Simone is an Italian a registered Yoga Teacher, Ayurvedic Consulrant, ,Pilates Instructor, Author and Inspirational Speaker.

Eryt 500 qualified and Rep's Level 3 leads 17 recognized certification program in Middle East and Europe. Finalist of Fitawards Middle East 2022 as best instructor and 2023 as best of Educator of the Year.

She is the founder of Maya Yoga Academy, where she offers yoga classes and trainings on-site and online. The yoga classes are based on traditional Ashtanga and Hatha yoga, Pranayama(Prana Vashya lineage), and Yoga Nidra.

Inspired by the teachings of Vinay Kumar, she completed yoga teacher training in Hatha Yoga at Satyananda School, in Vinyasa at Ananda School, in Prenatal and Kids at Aipy, in Aerial Yoga at Yogafirst , intensive teacher training in Prana Vashya at Prana Vashya Yoga School (TT500, TT300, TT200 RPYT ,RCYT And YACEP registered by Yoga Alliance).

She devoted her life to spreading deeper yogic and Ayurvedic teachings for the benefit of all.
Mariam Wael Aldeekh
From digital marketing to a stay at home mother, I found my love for yoga after trying a few aerial yoga classes.
I always avoided yoga before, because I thought it was only about flexibility and meditation and I was more of a dynamic , weight lifting person. But anyways wanted to try the new viral aerial yoga class and once I've done a couple, I fell in love with yoga all together and told myself this is it, this is what I wanna do and because I found my passion in it, I turned it into my career by taking both yoga and aerial yoga certifications. And now its time to give back my learnings.

In my class you will find the balance between strength and flexibility to focus on toning and stretching the body with a dynamic yoga flow. Expect to sweat , move and breath..
Gemma Quinnell
Gemma is a group exercise instructor specialising in dance fitness and Mind Body workouts.

Gemma is a regular lecturer in group fitness and aims to provide fun, inclusive sessions for all abilities.

She is Co-Director of IQ Lifestyle training academy which focuses on offering internationally recognised Personal Training, Pilates and Group Exercise certifications for students wanting to pursue a career in Fitness.
*All prices are inclusive of 5%VAT.