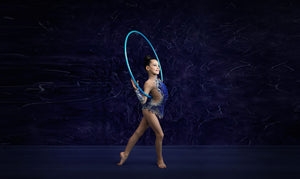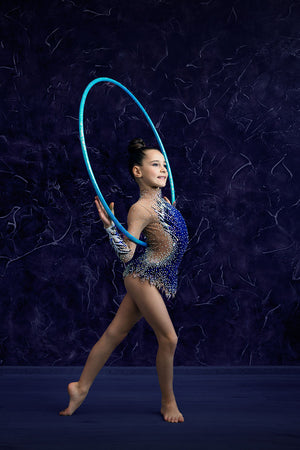 About RHYTHMIC GYMNASTICS
Looking to nurture the best rhythmic gymnast in your child? Our certified trainers are here to help them begin their rhythmic journey. Rhythmic Gymnastics is a unique sport where gymnasts perform with an apparatus, showcasing their skills and artistry. No vaults or bars, just music and self-expression. Join us and let us unlock your child's potential in this captivating discipline. Start their rhythmic gymnastics adventure today!

Beginners
In our Beginners class, young athletes are introduced to training hours where they gain interest in sport, learn discipline, and acquire and perfect specific movements such as splits, bridge, and cartwheels… leaving them with new skills such as flexibility, musicality, balance, coordination, and strength.
Intermediate
Our Intermediate classes aim to develop the body and achieve the apparatus prerequisites. Study and train using typical skills with the apparatus such as rope, hoop, ball, clubs, and ribbon while also working on motor ability, speed, flexibility, strength, and power
Advanced
Within our Advanced classes, we work on further developing the skills acquired in the beginners and intermediate sessions. Our focus is to increase the technical and physical abilities of our young gymnasts through routine learning. Our gymnasts in the advanced levels learn skills that will aid them to perform in competitions.
ADULT
Our adult classes are held in the format of developing gymnastics for people who believe it's never too late to learn gymnastics. We've got you covered! Our unique training program is based on the development of the most important physical qualities for an adult to ensure flexibility, coordination, balance, and strength.
FIG
FIG (Federation International gymnastics) program is one of the most important programs for a gymnast where they include elements of world difficulty. Here, the trainer and the gymnast will compose their own exercise program with a certain difficulty of points.
"It's Never Too Late"
PRIVATE
Start your gymnastics journey with our private sessions. We offer one on one coaching sessions with our certified trainers where you can discuss goals and set plans to achieve them within a certain timeframe.
CLASS SCHEDULE
Next Term - 15 weeks From Aug 29th to Dec 17th
Book A 20 min Free Trail Class